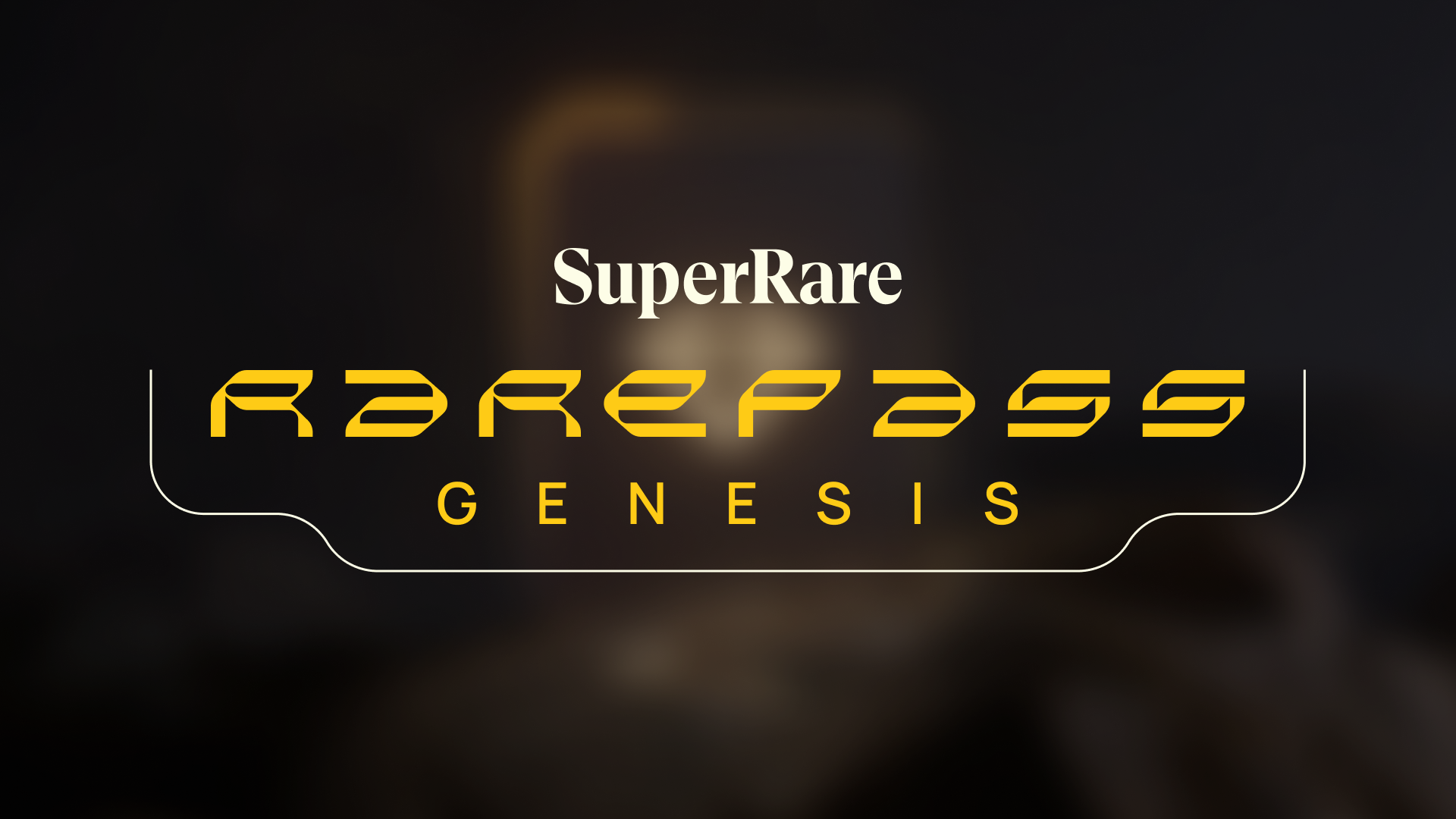 This policy is effective as of 1 November 2022.
This Privacy Notice ("Notice") describes how we at SuperRare Labs (the "Company") collect, use, share, and secure your Personal Information when you participate in the RarePass event. For Privacy concerning your use of the SuperRare Platform (https://superrare.co, https://superrare.com, rarepass.superrare.com/) (the "Platform") or please visit our primary Privacy Notice. This Privacy Notice is subject to the terms found in the RarePass Terms & Conditions as well as the SuperRare Labs Terms of Service. Aspects of the Platform may link you to third party services and websites. The Company makes no representations regarding the privacy policies or data collection practices of such third party service providers and by accessing such third parity websites or services you agree to the respective third party's privacy policy.
1. Summary
This policy applies to all participants in the RarePass event including
Visitors

Users

Collectors
The purpose of this Privacy Notice is to let you know how we collect, use, store, share, retain, transfer and process your Personal Information for the RarePass Event. This policy also describes your choices and rights with respect to your Personal Information and how to exercise those rights. "Personal Information" is any information relating to an identified or identifiable individual.
We may amend this policy from time to time. We encourage you to review this policy periodically, as changes will be posted on this page. If we make any material changes to this policy we will provide a prominent notice. If you do not agree with this policy, you should not use our website, products or services.
2. What Personal Information We Collect
2.1. Signing up for the RarePass Announcements
If you sign up to use our Platform, we collect your email address and use it exclusively for communications related to the RarePass event.
2.2. Personal Information collected when you participate in the giveaway
If you decide to participate in the giveaway, we will collect your personal information to determine your eligibility. These include:
Username on SuperRare

Email address

Ethereum Wallet Address
We may also collect usage data regarding your use of our products and services and this data may contain Personal Information.
We also collect payment and billing information when you register for the use of our products and services. For example, we may ask you to provide a billing address for your account and payment information. We use this information solely to process payments and deliver our products and services.
2.3. Personal Information collected when you participate in the RarePass Event Dutch Auction
All users who decide to participate in the Dutch Auction of the RarePasses will be required to provide at least:
An email address

Your wallet address
3. Information may be irrevocably stored on the blockchain
A Transaction is any sale, purchase, bid, transfer of an NFT or $RARE. Any transaction on the Site will be stored irrevocably on the blockchain. All information stored on the blockchain is then also stored by the Company in separate servers in order to reproduce that information in a manner that is user friendly. SuperRare Labs has no ability to modify or destroy that information. Some information may be concealed superficially from the Site in order to comply with lawful requests, but the data itself is irrevocably and permanently on chain. To see what information is stored on the blockchain, go to https://etherscan.io input your public Ethereum address into the search. See Section 3 for more information.
4. On-Chain Data and Metadata
By using SuperRare you acknowledge that your PII, including your Ethereum wallet address, is stored on the publicly searchable Ethereum blockchain and that neither SuperRare Labs, nor any third party, has any power to delete such data published by its User's to the Ethereum blockchain. You hereby release and indemnify SuperRare Labs Inc. of any data privacy liability associated with data that you published to the Ethereum blockchain by using SuperRare.
4.1. Your Ethereum Wallet and Transaction History
No entity, including SuperRare Labs, is capable of modifying or deleting data that is stored on the Ethereum blockchain. The details of your NFT-related transactions are public information and stored on the Ethereum blockchain in association with your Ethereum wallet addresses. Your username is publicly identified with your Ethereum wallet address on the Marketplace. If your account is ever deleted, then any transaction history on the Marketplace will display "anonymous" instead of your username.
5. How We Collect Information
We collect Personal Information from you when you visit our website and participate in the RarePass. We collect Personal Information in the following ways:
When you sign up for newsletters or

When you participate in the dutch auction
We may collect personal information from other sources, such as:
Third-Party Wallets

Ethereum blockchain

Etherscan

Third-party partners
6. How We Use Your Information
We process your personal information for the following purposes:
6.1. Maintain Platform functionality;
6.2. Enable you to participate in the RarePass Event;
6.3. Provide you with critical updates, confirmations, or security alerts;
6.4. Provide support or respond to your comments or questions;
6.5. Personalize and improve your experience and art activity feed;
6.6. Analyze and improve our Platform;
6.7. To contact you with updates about our services;
6.8. Manage IP disputes.
7. The Legal Basis For Collecting and Processing Information
We use the following legal bases for collecting Personal Information:
7.1. We may collect or process information with your consent, such as when you subscribe to our newsletter, ask for information, or sign up for services.
7.2. We may collect or process information we need to provide our services or fulfill a contractual obligation.
7.3. We may collect or process information to fulfill a legal obligation.
7.4. We may collect information when we have a legitimate interest to do so, such as for marketing, as long as our legitimate interests are not outweighed by your rights.
7.5. We may collect or process information if necessary to protect the vital interests of the user or another individual.
8. How We Share Information
We will never sell your personal information.
The common-law definition of to sell is when "cash is exchanged in return for a product or service."
We share Personal Information with our subproccessors and partners only as needed to provide our services. We share Personal Information with service providers such as accountants, payment processing companies, and other vendors we use to operate our website and provide our products and services.
Our vendors and service providers are not permitted to use your personal information for any other purpose than to provide contracted services. Vendors are not permitted to use your personal information for their own marketing, and are not allowed to share your information for marketing purposes.
We may share personal information in response to a legal summons or subpoena, or if required by law enforcement agencies.
8.1 Digital Millennium Copyright Act
The Digital Millennium Copyright Act (DMCA) sets forth a Notification and Counter-Notification process initiated by a party complaining of alleged copyright infringement on the SuperRare Platform. We may share information of the notifying, counter-notifying party, and any involved third parties, such as a Collector, of an allegedly infringing artwork to facilitate communication between the relevant parties for the purposes of complying with or resolving a DMCA dispute or allegation of copyright infringement.
9. How Long We Retain Your Information
How long we keep Personal Information that we have collected depends on the type of information and the purpose for which it was collected. After a reasonable period of time or the completion of the purpose for which it was collected, we will either delete or anonymize personal information.
9.1. We retain Personal Information where we have an ongoing legitimate business purpose to do so, for example to resolve disputes or to comply with ongoing legal obligations.
9.2. We retain your personal information for as long as it is needed to provide our services to you and to fulfill our legal obligations and for a reasonable period of time after such services are completed.
9.3. We retain some information in order to stay compliant with financial regulators and law enforcement.
10. Cookies and Other Tracking Technologies
Cookies are small files stored on your web browser when you visit our website. Some cookies last only as long as you remain on the website; others, called "persistent cookies" may be stored for longer periods of time.These cookies can make browsing easier by storing your password or your preferences regarding how you use the website. Cookies collect information such as the IP address of your computer, your browser settings, and information about how you use the website. Your general location may be estimated from your IP address. Some cookies track users' activity on our website, apps, and services in order to deliver personalized advertising to you on this and other websites.
If you would like to opt out of cookies, you may change the settings on your web browser to reject or delete cookies. You may also find more information about cookies, including how to opt out of interest-based advertising, at www.cookiesandyou.com.
10.1. What is a cookie?
Cookies are small text files that are stored on your device and which let us make your experience better and more efficient. They allow us to recognize your device and browser, and store information which we deem of importance for the improvement of our services.
10.2. Types of cookies.
10.2.1. Session Cookies
Session cookies are stored temporarily on the memory of your devices while you are visiting the website and are erased once you close your browser.
10.2.2. Persistent Cookies
Persistent Cookies are stored for a predetermined amount of time, which varies from cookie to cookie. It is longer than the session cookies; however they also expire after some months. They aid us to understand whether you have previously visited our website or similar sites in the past.
10.2.3.
First Party
First Party cookies are set directly by the website or by any of the subdomains of the website.
10.2.4. Third Party Cookies
Third Party cookies are set by websites not managed by us, such as our subprocessores or other technology partners.
10.3. How do we use cookies?
options for logging in that will authenticate you on the website, keep your login session active, and remember how you prefer to store your login information;

tabbed information that keeps track of the tab or specific part of the website you are looking at;

regional content to deliver material specific to a region and keep track of time zone settings;

language preferences to choose and remember the language in which material is shown;

the capability of the device to deliver various content depending on the browser device being used;
10.4. What cookies do we use?
10.4.1

Essential cookies
We may store cookies on your device if they are necessary to enable us to offer and provide our services. They are also required for you to navigate through the website and web application and benefit from all the available functions. These cookies cannot be switched off and are set for very basic options on the website, such as logging in, forms and set preferences such as timezone or languages.
10.4.2.

Analytical cookies
These cookies are placed to aid us in understanding how you interact with the available options on the website, which parts you use the most, and how you engage with our services. This helps us create statistics of usage and the amount of time you spend on the website. These statistics will ultimately help us to improve our website and any services we offer on it.
10.4.3.

Functional or Personalization Cookies
These cookies are placed by us to help us to provide you with better functionality of the website and our services and to make them more personalized to you. They can also be placed by third-party providers you specifically consent to when you accept this cookie policy. You may block these cookies, but if you do, it may be that parts of the website do not function the way we intended.
10.4.4.

Social Media Cookies
These cookies are set for social media services. They enable you to share parts of the website on social media with friends and networks. These can track some of your actions which then helps to build up a profile of your interests.
10.4.5.

Targeting or Advertising Cookies
These cookies are used to serve you with advertisements that may be relevant or of interest to you when you are browsing on the internet. They are mostly placed by third parties whenever you interact with their content on our website.
10.5. Interest-based ads
Interest-Based Advertising – Cookies are also used to collect information about your interests and preferences for the purposes of what is called "interest-based advertising". It is for companies to send you offers about products and services tailored to your inferred taste and needs. You may turn off these cookies; however, you may still receive advertisements, with the difference of these not being specifically tailored to you.
10.6. How to block cookies.
You may stop or restrict the placement of cookies and other tracking technologies, such as pixel tags. You do this by blocking them on your device or by removing them and adjusting preferences on your browser. This may vary from device to device and from browser to browser.
Please see the links below for guidance on how to modify your web browser's settings on the most popular browsers:
Once you correctly block cookies on your browser, parts of the website may become unavailable to you or may otherwise not function properly.
10.7. How to opt-out of third-party cookies and targeted ads.
To opt out of tracking analytics placed by Google, you can opt out by using this form. This works for all websites that use Google's services to track and gather analytics data.
To understand and responsibly manage cookies that enable interest-based ads we strongly recommend that you go to the website of the Digital Advertising Alliance (DAA) or to the website of the Network Advertising Initiative (NAI).
To learn more, please visit https://youradchoices.com/ . Many of our third-party service providers that serve interest-based advertisements to you across our services are members of the Network Advertising Initiative (NAI), or they follow the DAA's Self-Regulatory Principles for Online Behavioral Advertising. You can choose to opt-out directly from these third parties by visiting their opt-out pages on the NAI website (http://www.networkadvertising.org/choices/ ) and DAA website (http://www.aboutads.info/choices/ ). However, please note that if you "opt-out" you will keep seeing links and online advertisements; however, they will not be specifically targeted to you or tailored to your interests.
11. Your Rights Regarding Access to and Control over Personal Information
If you reside in the EU/EEA, you may have the following rights with regard to your personal information:
11.1. Right of information and access - You have the right to access your Personal Information we have about you and to be provided with a copy of your Personal Information.
11.2. Right to rectification - You have the right to correct or update your inaccurate or out of date Personal Information.
11.3. Right of erasure - You have the right to request that your Personal Information be permanently erased/deleted.
11.4 Right to restrict processing - You have the right to restrict the processing of your Personal Information.
11.5. Right to object to processing - You have the right to object to specific types of processing of your Personal Information.
11.6. Right to portability - You may ask to receive a portable copy of your personal information in a format that may be transferred to another organization.
11.7. Right not to be subject to decisions based solely on Automated Decision Making - You have the right not to be subject to decisions based solely on automated processing.
11.8. Right to withdraw consent - If you have given us consent to collect or process your Personal Information, you may withdraw that consent at any time.
11.9. The Right to Non-Discrimination - We may not discriminate against you if you exercise your privacy rights.
If you are a member of the EEA and wish to exercise any of these rights please submit a request via our Data Deletion Form or email Privacy@SuperRare.com.
We may charge a reasonable fee if your request is not valid under applicable law, repetitive or excessive. We may also request additional information from you in order to verify your identity before processing your request.
12. Information for California Residents
The California Consumer Privacy Act (CCPA) applies to information collected from California residents. Residents of California have the following rights with regard to their personal information:
12.1. The Right to Know and Access Information
The categories of personal information we collect is described above in the section entitled "The Information We Collect". California residents may submit a verifiable request regarding the information collected, the types of sources from which personal Information is collected, the purposes for which information is collected, and the specific personal information collected about them.
12.2. The Right to Have Personal Information Deleted
12.3. The Right To Portability
California residents may request a copy of their personal information in a format that can be transferred to another person or entity.
12.4. The Right to Non-Discrimination
We may not discriminate against you if you exercise your privacy rights.
You may be asked for more information in order for us to verify your identity when you make a request. You may exercise your rights by emailing us at Privacy@superrare.com or Legal@superrare.com.
We do not sell Personal Information to third parties (pursuant to California Civil Code Sections 1798.100-1798.99, also known as the California Consumer Privacy Act of 2018.
The sections above "What Personal Information We Collect" lists the categories of Personal Information we have collected in the preceding twelve (12) months.
13. International Data Transfers
Personal Information may be transferred from users residing in the European Union to our servers, partners, or vendors located in the United States and other non-EU countries where there may not be an adequate opinion issued with respect to that country. We have taken appropriate safeguards to ensure that Personal Information remains protected wherever it is transferred.
14. Security
We take all reasonable steps to protect the information we receive from you from accidental or unlawful destruction, loss, alteration, and unauthorized disclosure or access. We have put in place appropriate physical, technical, and administrative measures to safeguard and secure your information, but no security measures are perfect; the risk of a data breach is possible.
15. Automated Decision Making and Profiling
Data collected from RarePass participants will be put through algorithms to make decisions about User experiences, create and assign User profiles, and provide other services. Some elements of the RarePass Event expressly necessitate algorithmic processing and by participating you consent to your data being used algorithmically. No algorithms shall be used to make adverse decisions about Users unless it is to fulfill an affirmative duty to prevent criminal activity.
16. Children's Privacy
We do not knowingly collect or solicit personal information from children under age 13 without parental consent, unless permitted by law. If we become aware that we have collected personal information from children under the age of 13 without parental consent (or as permitted by law), we will delete it. If you believe that a child may have provided us with personal information without such parental consent, please contact us.
California consumers: We will not sell the information of California consumers who are 16 years old or younger unless we have prior parental authorization. If a California consumer is under the age of 13, a parent or guardian must consent to the sale of such minor's personal information. If the California consumer is between the ages of 13 and 16 years old, the minor may consent on an opt-in basis to the sale of their personal information. Our sites directed toward children will ask for age verification and will require appropriate consent.
EU residents: We do not collect or process personal information of data subjects in the EU under the age of 16 without explicit consent from a parent or guardian. Our sites directed toward children will ask for age verification and will require appropriate consent.
17. Sensitive Information
Unless specifically requested, we ask that you not send us, and you not disclose on or through our websites or otherwise to us sensitive personal Information unless specifically requested by us or required by law.
18. Contact Us
If you have any questions about this privacy policy, or if you want to exercise your privacy rights as outlined above, please contact us at Privacy@superrare.com.